Fire System Inspections & Maintenance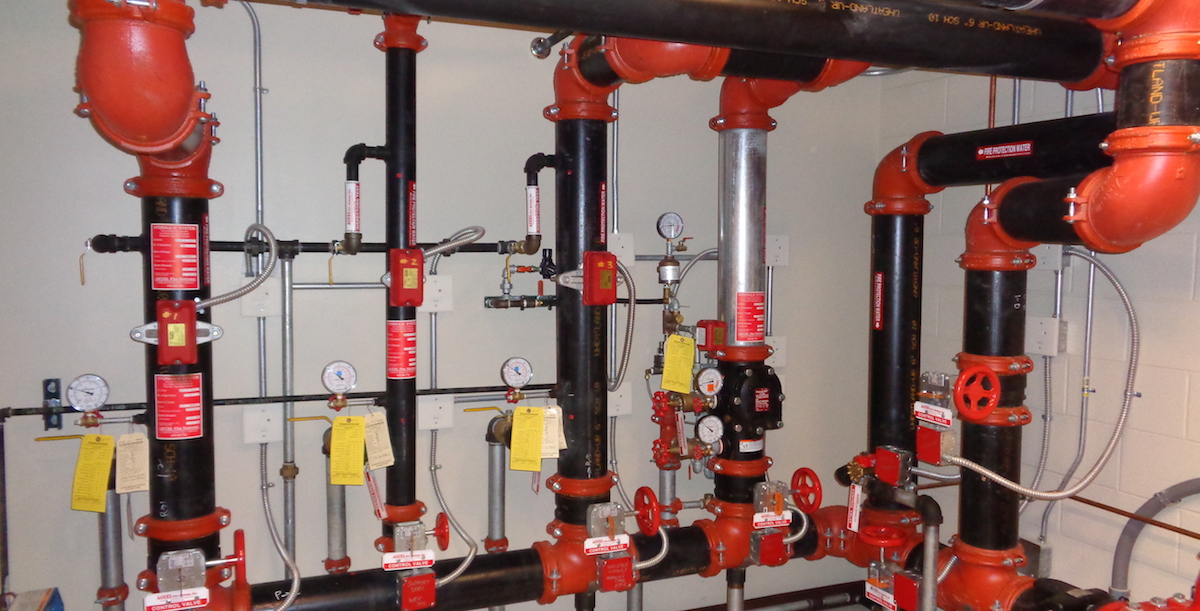 Fire Sprinkler System Inspections & Maintenance
A fire sprinkler system that hasn't been regularly inspected or is not working properly is a disaster waiting to happen. Fire suppression systems can only protect people and property when they've been regularly inspected to ensure that they are in proper working order and when any issues are immediately addressed. Accel Fire Systems provide inspection and maintenance services for fire sprinkler systems in Toledo, Ohio and the surrounding areas.
Accel Provides 24/7 Service
Disasters and system failures can happen anytime, day or night. At Accel, we are available around the clock, 7 days a week so that building occupants and property can stay protected. In the event that a disaster does strike, Accel will work with your insurance company to help you get back to business as quickly as possible. With trucks located throughout our service area, we can quickly respond to any issues that may arise.
Fire Sprinkler System Inspections
Don't wait until a disaster strikes to find out if your fire sprinkler system is working properly! Accel provides regular fire sprinkler system inspections, providing you with peace of mind and protection. Accel's inspectors specialize in checking all types of fire protection systems in accordance with the requirements of manufacturers and the NFPA standards. Accel inspects:
Call Accel today to set up a fire sprinkler or fire suppression inspection plan!
Fire Sprinkler System Maintenance & Service
Proper maintenance of your fire sprinkler system is imperative to ensuring that it's in working order and will protect people and property in the event that disaster strikes. Systems that are not properly maintained can lead to costly damage during cold weather months due to freezing. Let Accel Fire Systems inspect your dry sprinkler systems to ensure they stay dry, and your anti-freeze sprinkler systems for proper mixtures. We are happy to discuss a maintenance and service plan with you.
Hydrants & Underground Work
Accel provides fire hydrant and underground fire system services in Toledo, Ohio and throughout surrounding areas. Fire hydrants and underground fire systems are key to helping fire personnel and other responders battle emergencies. A properly working fire hydrant and underground system protects both people and property, making it imperative that they are regularly inspected and maintained.
When you choose Accel Fire Systems to perform fire hydrant inspections, our comprehensive services include:
Annual inspections and maintenance to ensure NFPA 25 compliance.
Hydrant test is to exercise the hydrant valves through the full range of operation, clear the hydrant of any built-up debris, and to ensure proper operation of the barrel drainage.
Each hydrant shall be opened fully and water flowed until all foreign material has cleared.
Hydrants shall be lubricated annually to ensure that all stems, caps, plugs, and threads are in proper operating condition.
Hydrants shall be lubricated annually to ensure that all stems, caps, plugs, and threads are in proper operating condition.
For fire hydrant repairs and replacements, Accel provides 24/7 emergency service, along with:
Maintenance and repair, including repairs to leaking, damaged and frozen hydrants.
Hydrant Flow Testing to ensure the proper water pressure supplying your building in case of fire.
Hydrant Repairs and complete fire hydrant replacement including excavation, backfill and grading per NFPA 24 compliance.
For underground repairs, Accel Fire Systems can repair and replace fire service mains, meters, water flow detector check valves, single check valves, backflow preventers, fire department connections and manually operated valves and fire hydrants, which may all be considered part of the fire service main system. Underground repairs that Accel specializes in, includes trenching, laying pipe, backfilling, connecting valves, fittings, hydrants and initial hydrostatic tests.
For all of your fire sprinkler and fire suppression system maintenance and service needs in Toledo, Ohio and the surrounding areas, call Accel at 419-843-7756 today!